Downtown Living Up High
October 5, 2016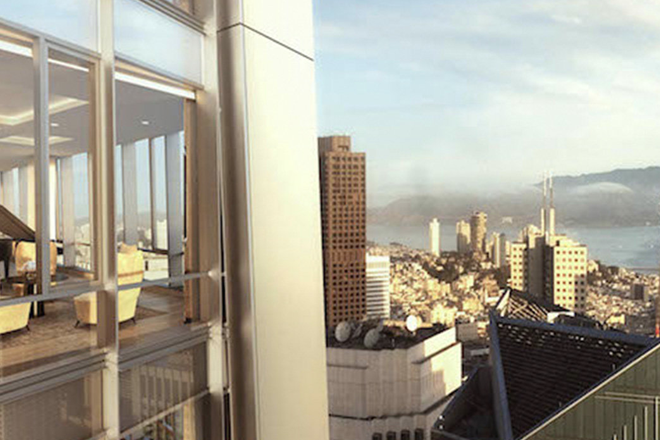 Residents of 181 Fremont's San Francisco luxury condos will live at the intersection of vibrant city life and pure tranquility. The building's perch in the heart of San Francisco's SoMa neighborhood affords easy access to attractions like the Yerba Buena Gardens, the San Francisco Museum of Modern Art, and top-rated restaurants like Ozumo. SoMa is also home to many of the city's hottest companies, including Pinterest, Trulia, Salesforce, and Airbnb, to name just a few. For professionals who work in SoMa, 181 Fremont offers the best of both worlds: by day, San Francisco beckons for work and play, and by night, quiet evenings at home provide the ultimate luxury. Inside, 181 Fremont's spacious condominiums float above it all, inviting residents to take in spectacular city views from up high.
A weekend in SoMa can start with an invigorating jog along the Embarcadero with its Bay Bridge views and opportunities for people-watching. After the morning rituals, 181 Fremont residents can choose one of many outstanding local options for a well-earned brunch. Chef Michael Mina's refined bistro RN74 on Mission Street offers savory mid-day fare like Grilled Mary's Chicken Paillard, which comes with a sunny-side egg, tasso-fried rice, and corn sabayon. The Garden Court at the Palace Hotel on New Montgomery Street serves meals (and afternoon tea) in a spectacular glass-domed atrium that was built in 1909. Their à la carte City Brunch menu offers fresh takes on hearty classics, like the Mission Benedict with kalua pork and tomatillo, and the Sea for Two platter, which features lobster, shrimp, and oysters served with yuzu kosho remoulade and red wine mignonette.
Art and culture are part of the fabric of life in SoMa, which is home to a number of the city's most renowned and exciting arts organizations. But it's not only the museums that have helped SoMa garner this reputation: just ten minutes from 181 Fremont on foot, the Yerba Buena Gardens (YBG) provide some of the most exquisite landscaping and public art in the city. The YBG comprise two blocks between Third and Fourth, and Mission and Folsom Streets, including the grounds of the Yerba Buena Center for the Arts, the Children's Creativity Museum, and the Children's Garden for little botanists. From May through October each year, YBG hosts the Yerba Buena Gardens Festival, which features live outdoor jazz, dance performances, classical recitals, and programs for families.
Not far from YBG, the San Francisco's Museum of Modern Art (SFMOMA)—the city's cultural crown jewel—offers a slate of world-class exhibitions and programs year-round. In its newly reopened space, following a massive, three-year renovation process and a new design by the Norwegian architecture firm Snøhetta, the museum now covers 170,000 square feet, which makes it one of the largest American museums in terms of exhibition space. Jackson Pollack had his very first museum show at SFMOMA, and visitors can still take in many classic highlights from the permanent collection, including work by Henri Matisse, Paul Klee, Andy Warhol, and the photographer Ansel Adams. SFMOMA also recently acquired the collection of Doris and Donald Fisher, founders of The Gap, which includes works by Alexander Calder, Willem de Kooning, Chuck Close, Richard Serra, and scores of other key American artists.
Not far from 181 Fremont, Mourad Restaurant on New Montgomery Street offers sophisticated Moroccan fare in an exquisite space that's both lively and intimate. Their nine-course tasting menu is a lovely way to become acquainted with chef Mourad Lahlou's talents. For home cooks, an evening indoors at 181 Fremont following a day of downtown exploration can be as much fun as dining out, particularly if the ingredients themselves are the inspiring results of SoMa shopping expeditions. The nearby Ferry Plaza Farmers Market on the Embarcadero offers much more than just fresh produce. Shoppers can find chic tableware and tiles by Heath Ceramics in every imaginable color, or browse Le Creuset cookware at Sur la Table. The well-stocked Book Passage features an array of food-related titles, as well as great gift ideas in the form of photography and travel books about the Bay Area.
Up in the kitchen at one of 181 Fremont's luxury condos, home chefs armed with seasonal produce and a classic cookbook or two will have plenty of workspace and top-of-the-line appliances to concoct a cozy dinner for two or a big meal for a group of friends. The floor-to-ceiling windows and spacious, open floor plans mean that the kitchens at 181 Fremont feel connected to the rest of home. Valcucine glass cabinets hand-crafted in Italy offer elegant storage, and some kitchens can be partially hidden behind graceful oak sliding panels, as needed. From early morning to the wee hours, the experience of living at 181 Fremont is a balanced blend of adventure-filled city life and the private comforts of home.